I don't want to be overdramatic or 'overplay' this but dad-gummit the iPad has changed my life! 130 days in and I still can't believe how amazing this device is. I have always had lots of technology toys in my life. From the
Casio Telememo watch
to the
Palm Pilot
to the
Treo smartphone
, I've had them all! So why has the iPad created such a stir? There are three things it does extremely well that have literally changed the way I work and live.
First, I love to read... I consistently read three newspapers, six magazines,
dozens of blogs
, Twitter posts and Facebook updates. (Not to mention about a book a month!) Suffice to say I am an avid reader. The iPad has changes where, when and how I can read. I subscribe to the Wall St. Journal for the iPad. It is a great app, easy to update, simple to read and can go anywhere.
For blog reading I love the
Pulse app
... it makes reading blogs easy and moves quickly between an extract and the full post on the web.
Flipboard
is a new app that makes everything look and feel like a magazine. I use it for reading Twitter and Facebook posts, as well as some magazines. (I'm hoping that Flipboard and Pulse merge, that would be the perfect reader!)
Instapaper
is an incredible app that allows you to "read later" any story you find online. I recommend it highly. All in all, I have become a more productive reader with the iPad. The second aspect of the iPad I am amazed by is the business functionality.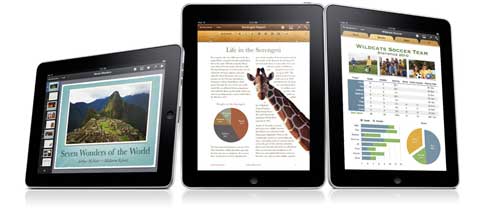 I travel a lot and have found that the iPad is almost a complete replacement for my laptop. I recently was in NYC and had 14 meetings with friends and investors discussing a new company I've been helping. In each meeting all I had was my iPad and
Moleskine
calendar. I simply fired up the Keynote app, set my iPad on the table and stepped through the deck page by page. It was seamless and made for great conversation. From calendar to email to presentations, spreadsheets and documents it does it all. The single downside today is the inability to easily print. Surely Apple will fix this soon. (Side note, I can now type about 80% of the speed of my laptop, not bad!) I have also begun taking meeting notes into my iPad using
Notepad Pro
. It is a very handy app and makes meeting recaps quick and easy.
Finally, I love the apps! It has huge entertainment and information value. I watch streaming movies and TV shows from
Nexflix
. I play
Words with Friends
with my son (and consistently lose!). There are incredibly functional apps including
TripIt
, Amazon, Maps, Skype,
Flixter
, Yelp, Redbox, Starbucks and
NYCWay
to name a few of my favorites. I even manage my accounts from my iPad... in fact, just about everything I need is right there in the 10" by 7 1/2" little pad. I have found myself taking it just about everywhere. Yes, I have an iPhone too but the size and comfort level of reading the iPad makes it a must have when I am out and about. It is lightweight and not at all a burden to carry around. I can't imagine leaving home without it! So if you don't have an iPad I suggest you get one. Try out a friends for a day and you'll see what I mean. I know there are imitators on the way. That will be a good thing in the same way that iPhone imitators have brought better functionality in it as well. It is a rare occurance in my life when anything exceeds my expectations. As
I sat on my porch on April 3rd
waiting for the UPS truck to arrive I was already excited. Now, 130 days into being an iPad owner, I continue to be blown away and I predict you will be too! Tom Cuthbert