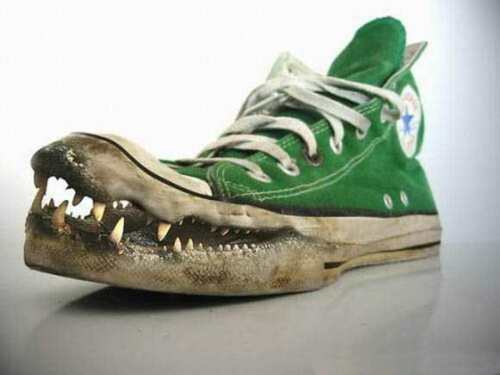 Ok so I broke down and bought a pair of Crocs two weeks ago. I know, not my style and I probably look like an idiot. But dang these shoes are comfortable! I'm not really affected by trends and certainly not a fashion maven by any stretch. But since I was going to spending a lot of time outdoors, last week I decided to give them a try.
They are awesome! So far they have been durable in rough terrain, comfortable and lightweight. Sure they look stupid but they are not any worse than Earth Shoes, Uggs or Birkenstocks! Recently the Galveston, Texas paper ran an article titled, "Get rid of Crocs, other fashion disasters". (As you know, Galveston, Texas is the shoe fashion capital of the world and my fashion turns on whatever they say!) The writer said, "Crocs are an unfortunate excuse for shoes that look like a combination of goulash and mule...". Thank you Galveston...
For those of you that would rather push the fashion envelope than keep up with the Galveston fashion experts, Zappos has a great selection of Crocs. Eee-aww...
Tom