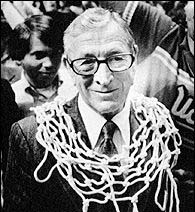 Without question, one of the greatest coaches in my lifetime has been
John Wooden
. With ten championships over a twelve year period, no one would question Coach Wooden is among the best. Ask any player who played for the "Wizard of Westwood" and you will learn they all learned more about life than about basketball. It was Wooden who said,
"Sports do not build character. They reveal it."
Character has been revealed through sport in a game played in Dallas where Covenant defeated Dallas Academy 100-0 on Jan. 13. Leading 59-0 at the half, the team continued to shoot three-point shots and press on defense. Credit goes to Dallas Academy for never giving up. I was struck by their attitude and desire to improve shown in this video
from the Dallas Morning News.
While not a point was scored by the team it's clear to me that there was a point made. After the fact, the Covenant team players and coaches apologized and offered to forfeit the win. Lesson learned. Wooden is right, sports reveal character... in both winning and losing. The key is learning to apply those lessons to life. Wooden went on to greatness not because of his knowledge of basketball, but because of his perspective on life. Let me leave you with John Wooden's Seven Point Creed, given to him by his father Joshua upon his graduation:
Be true to yourself.
Make each day your masterpiece.
Help others.
Drink deeply from good books.
Make friendship a fine art.
Build a shelter against a rainy day.
Pray for guidance and give thanks for your blessings every day.
All good words to live by. Thanks coach Wooden for 98 years of leadership. And congrats to the team at Dallas Academy for reminding us that in life, there are more points to be made off the court than on it. Tom