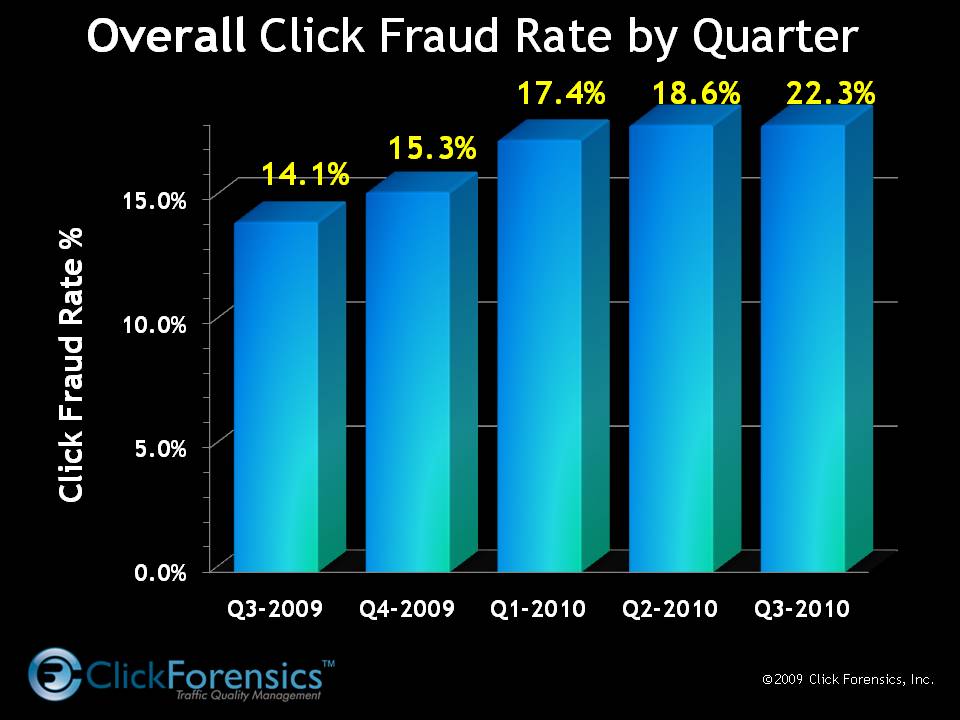 Click Forensics
®, Inc. today released advertising audience quality
figures
for the third quarter 2010 from the industry's leading independent online advertising data reporting service.
Now in its fourth year, the Click Forensics reporting service provides statistically significant data collected from Cost Per Click (CPC) advertising campaigns for both large and small advertisers across all leading search engines as well as comparison shopping engines and social networks. Traffic across more than 300 ad networks is reflected in the data. Key findings for Q3 2010 include:
The overall industry average click fraud rate was 22.3 percent. That's up from the 18.6 percent reported for Q2 2010 and the 14.1 percent rate reported for Q3 2009.
In Q3 2010, the countries outside North America with significant CPC traffic producing the greatest volume of click fraud were Japan, the Netherlands, the Philippines and China, respectively.
"During the past quarter, we saw a growing volume of click fraud flow through a more diverse number of sources, including mobile proxies," said Paul Pellman, CEO of Click Forensics. "As advertising in videos, social networks and mobile devices continues to grow, advertisers will need to pay close attention to the quality of traffic they receive."
Since 2006, Click Forensics has published online advertising industry data collected from the first independent third-party Cost Per Click (CPC) and online advertising fraud detection service. The service monitors online media traffic across over 300 ad networks as well as billions of clicks from top search engines, comparison shopping engines, social networks, leading publishers and advertiser web sites – providing the most accurate view of online advertising audience quality.
For more details, visit http://www.clickforensics.com/resources/click-fraud-index.html.