My take: Carmelo is a terrific player... but why mortgage your future when the balance of your team (with Melo) still can't compete immediately?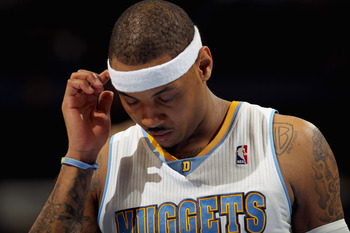 Carmelo Anthony is the subject of a major trade rumor today? It's a shocker, I know. Reports are that a trade agreement has tentatively been reached by the New Jersey Nets and the Denver Nuggets.
The trade would send Carmelo Anthony, Chauncey Billups, Sheldon Williams, Melvin Ely and Renaldo Balkman to the Nets in exchange for Devin Harris, Derrick Favors, Troy Murphy, Ben Uzoh and four first-round picks.
Four first-round picks? Really? It sounded impossible at first, since teams can't trade consecutive draft picks under the Stepien rule, but the Nets actually have enough first-round picks in 2011 and 2012 to pull this off. Should they actually be trading these first-round draft picks though?